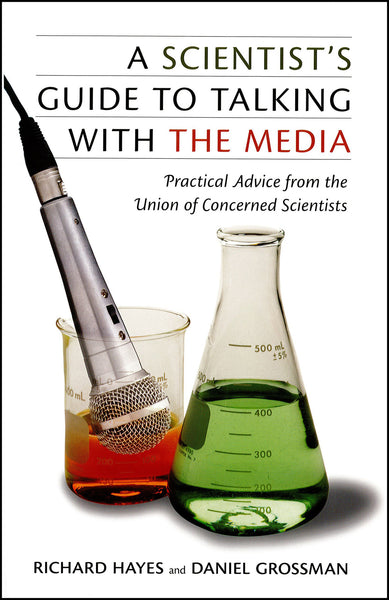 A Scientist's Guide to Talking with the Media: Practical Advice from the Union of Concerned Scientists
---
---
is sold out but we're in the lab cooking up some more and will be shipping soon. Back order yours today!
---
---
In A Scientist's Guide to Talking with the Media, Richard Hayes and Daniel Grossman draw on their expertise in public relations and journalism to empower researchers in a variety of fields to spread their message on their own terms. The authors provide tips on how to translate abstract concepts into concrete metaphors, craft sound bites, and prepare for interviews. For those looking for a higher profile, the authors explain how to become a reporter's trusted source—the first card in the Rolodex—on controversial issues. 

A must-read for all scientists, this book shows how it is possible for the discoveries that hibernate in lecture halls and academic journals to reach a broader audience in a way that is accurate and effective. 
Paperback: 222 pages
Publisher: Rutgers University Press; 2006
Language: English
ISBN-10: 0813538580
ISBN-13: 978-0813538587

About the Authors

Richard Hayes is deputy communications director of the Union of Concerned Scientists, where for more than a dozen years, he has helped scientists across the country become more effective with the press. Hayes was previously a reporter for a bipartisan caucus in the US Congress, where he also coordinated a task force on climate science. He lives in Nashville, TN.

Daniel Grossman is an award-winning science journalist and former reporter for National Public Radio's show on the environment, Living on Earth. He has written for publications such as the New York Times, Rolling Stone, and Scientific American. He has also taught science journalism at the Boston University School of Journalism. He lives in Watertown, MA. 
---
Share this Product
---
---
---